Fingerprint Attendance System
ZKteco Fingerprint time attendance machine
ZKteco Fingerprint Attendance compatible with TCP/IP, USB Host, Color TFT screen with GUI Interface for easy of use, Built-in latest fingerprint algorithm VI 0.0,  Built-in SSR Excel Software, Openoffice.org, LibreOffice, Multi-Languages, Function keys to select the IN or Out status of the punches, Real-Time-touch data backup.
You are interested in learning ZKteco Fingerprint Attendance how much it will cost to provide and install time attendance machines in Dubai. We are a leading supplier of biometric attendance systems in Dubai and Sharjah, United Arab Emirates. We are offering the cheapest prices in the UAE market on all types of attendance machines with a built-in keypad for convenience, HID card reader, and a cloud base biometric fingerprint machine. Our Biometric time attendance system is a cutting-edge Time Attendance Solution that tracks the working hours of employees using facial biometric identification. Many businesses in Dubai and the UAE use our attendance systems. The type of technology, the number of employees who must be recognized, and the frequency of identification all affect the cost of a biometric time attendance system. The price of our biometric is more justify if you optimize  labor work hour through our system.
Biometric attendance punching machine
| | | |
| --- | --- | --- |
| Display | 2.8 inches TFT Screen | |
| Fingerprint Capacity | 500 | |
| Transaction Capacity | 50,000 | |
| Communication | TCP/IP USB HOST | |
| Standard Functions | Scheduled-bell, SMS, Work code, DLST, | |
| | SSR Report, Self-Service Query, | |
| | Automatic Status Switch, T9 Input, | |
| | 9 Digit User ID , ID Card | |
| Power Supply | 5V DC 2A | |
| Operating Temperature | o c-45 oc | |
| Operating Humidity | 20% – | |
| Dimension(WxHxD) | 185X140X30 mm | |
The laborious tasks associated with tracking employee time and attendance are made simple by time and attendance systems. Together with our data gathering tools, our streamlined time attendance software makes it easier for you to manage labor expenditures, reduce compliance risk, and boost employee productivity.
The reliability of time attendance software depends on the information you give it. A fixed-mount time clock, a mobile app, a telephone system, or a browser-based solution are all trustworthy and simple to use data capturing options. Likewise, update the staff attendance management system with proper data.
Under real work force challenging network conditions, the Time Tick Attendance Management System enables you to remotely manage and monitor hundreds of Time & Attendance  terminals WIFI LAN. The server will automatically receive all information gathered at the terminals. Manage the collected data and personnel information on a server.
Numerous types of databases are supported with flexible database interface.
With Info-attendance Tech's software, tracking attendance has become simpler. Employees are able to clock in and out using our mobile attendance app. For both small and large organizations, we also have built-in face recognition and geofencing features.
Product Description
ZKteco Fingerprint Attendance
We have a highly talented group of IT professionals who will make sure that solve your issue with the fingerprint attendance system. Our team has been very keen on offering the most effective state of art services in the time and attendance system. we provide at favorable low costs to resellers and shoppers. This product can function as a completely standalone machine without the use of any software application. Our range of the Biometric Time Attendance Systems do not keep an image of the fingerprint but a template in machine memory. A fingerprint template is basically transform a number that is calculated based on various characteristics of the fingerprint. ZKteco Fingerprint Attendance systems can easily implement on all third party HR platform, OUR IT team keep work with fast updating, follow-ups, and flexible customizations, All  our prominent features result is only applicable for our team hard work and dedication with devotion .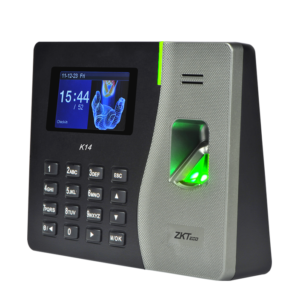 ZKteco K-14 is  one of the famous model, Among of the punch-in system machines and no matter the best in our complete range of digital Biometric Fingerprint Machines. Which caters the most recent industry highly optimum standards.  We deal in various kind of ZK Biometric Time Attendance & Access Control system.  ZKteco  high performance durable updated firmware functions and compact sleek design, it has become one of ZKTeco's most popular biometric machine.
BIOMETRIC FINGERPRINT ATTENDANCE SYSTEM
In any case, Alpha Business Machine Technology the unique  data set is marginally important. Our dedicated Programmers maintain reports  as a sign-in sheet, timeclock, or swiping an ID card designed to reduce employee theft, rely on an honor code.
ZKteco Fingerprint Attendance Dubai
In any case, ZKteco Fingerprint Attendance the unique mark information in the Suprema data set is marginally unique. Programmers could utilize a taken finger impression to break into a genuinely simple security framework.  A further developed framework may be conceivable, as well, assuming they have heaps of time and cash available to them.